In his letters, Henri took every occasion to describe and comment to his beloved, with distance and humor, his daily existence as a buried soldier:
"[...] The weather is fair and cool, but the nights start getting longer. Heavy fogs are coming, now, and we are getting cooler and cooler. I have everything I would require to get covered and warm, and my long stay in campaign got me hardened: I switch from the sun to the rain, then from the hail of bullets to quietness without any worry. Having enough to drink, to eat, and to smoke: this is just what I require [...]".
[Letter dated 11th October 1915]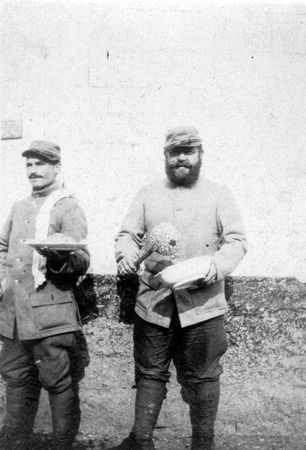 Photography annotated by Henri Baudiment, Mont-St Eloy - February 1916: "My waiter and my cook".
"[...] I lack nothing special, and be assured that I have all my personal staff: after 15 months of war, a good old fellow like me does not need any more to get advised. So, for now, I find no particular difficulty to establish a shelter, to make some fire, etc, etc, etc, and generally speaking, I can count on comfortable conditions.
My health is at the full, and this outdoor life just gave me some weight; all my peace time clothes have become too tight [...]".
[Letter Autumn 1915]
Photography annotated by Henri Baudiment, Mont St-Eloy - February 1916: "The Kuistrate" [The Kitchen]