Henri rushed up, as soon as he could, from the Loos-en-Gohelle sector, where he had taken an active part to the 9th May attack; he, then, attempted to retrieve any track of his younger brother, unfortunately without success:
"[...] I walked along and through all the temporary graveyards, village cimeteries, etc, etc... but I could not find out the tumb of our late beloved. What a real joy would have been mine, to find it, to grant him with a last and final salute, and to place there a bouquet of flowers with a wreath [...].
[...] This is a real calamity for our family, but you will have to console yourselves and to get over. And you have, now, to turn towards young children who come to birth, towards those who have reached the age of discretion. And if by misfortune, France had been invaded, what would we have become? Your three sons, educated in a military family, were on the duty to defend their Mother Country; we pay cash our duty; let us hope that it is over, now [...]."
[Letter, June 1915]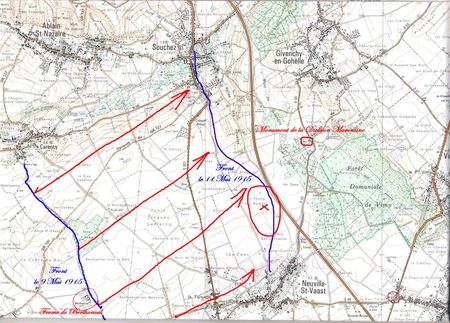 Map IGN 1/25.000e - ARRAS Nord
Today, Aimé may rest somewhere here, buried in the soil of this wide area in Artois, named "au Champ des Malades" (namely: "by the Field of the Sicks"), North to Neuville Saint Vaast.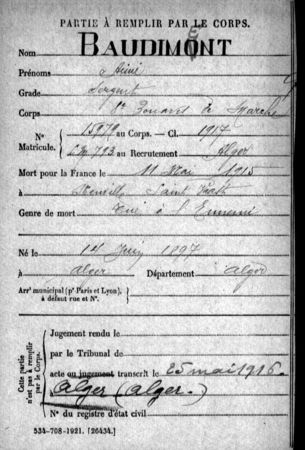 Individual record of Aimé Baudiment (Source: Site "Mémoire des Hommes" of the French Ministry of Defense).
"Au Champ des Malades": the battle field of the 8th RMZ, on the 11th May 1915 - On the right, in the background: the Hill of Notre-Dame de Lorette, and its lighthouse - Photography: October 2007 - Vincent Le Calvez (many thanks to him)