Jean-Baptiste was severely injured in the left eye and in the chest, by some German schrapnell bullets, on the 18th September 1914, in Prunay sur Vesle (Marne).
On this occasion, Jean-Baptiste was awarded the "Légion d'Honneur" and the "Croix de Guerre" (with palm), mentioned in dispatches of the Army:
"Promoted from Warrant Officer to Second-Lieutenant, for the bravery he showed in all the fights he had been involved in, since the beginning of the campain. Was wounded on the 18th September 1914, and lost his left eye".
On the 2nd November 1914, he was sending the following news to his parents: "Do you recognize the disabled, with his head surrounded by napkins?".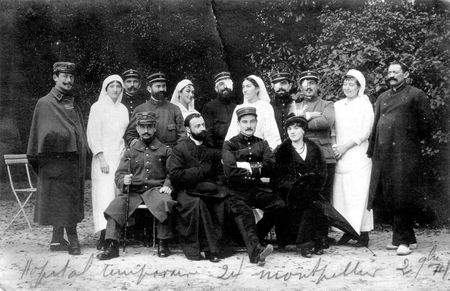 Group photography, taken at the Temporary Hospital #24, in Montpellier, on the 2nd November 1914: Jean-Baptiste is standing, in the middle.